While metal additive manufacturing has come a long way, building things with the mass necessary to accommodate great loads and forces has been prohibitively time-consuming, expensive or just not possible, leaving a number of industries without the ability to explore the potential of 3D printing. With the ADDere technology, even industries with large-scale, large-mass components like off-highway, energy, aerospace, marine and defense can take advantage of additive manufacturing's benefits.
"Currently, the AM focus has been on powder based metal systems. That focus had a lot of potential markets stuck on the outside looking in," says Scott Woida, ADDere President, "but those industries now see a legitimate 3D printing roadmap for their parts through what we've been doing with ADDere."
As an example of what's now possible with Laser Wire Additive Manufacturing (LWAM), ADDere has printed these blocks out of Titanium and 17-4 stainless steel. The blocks of Titanium are 15cm by 15cm by 30cm and weigh 32kg. The 17-4 blocks – also known as SAE type 630 or UNS 17400 – are of the same dimension but weigh in at 55kg. Each is completely solid with better metallurgy than with existing casting processes.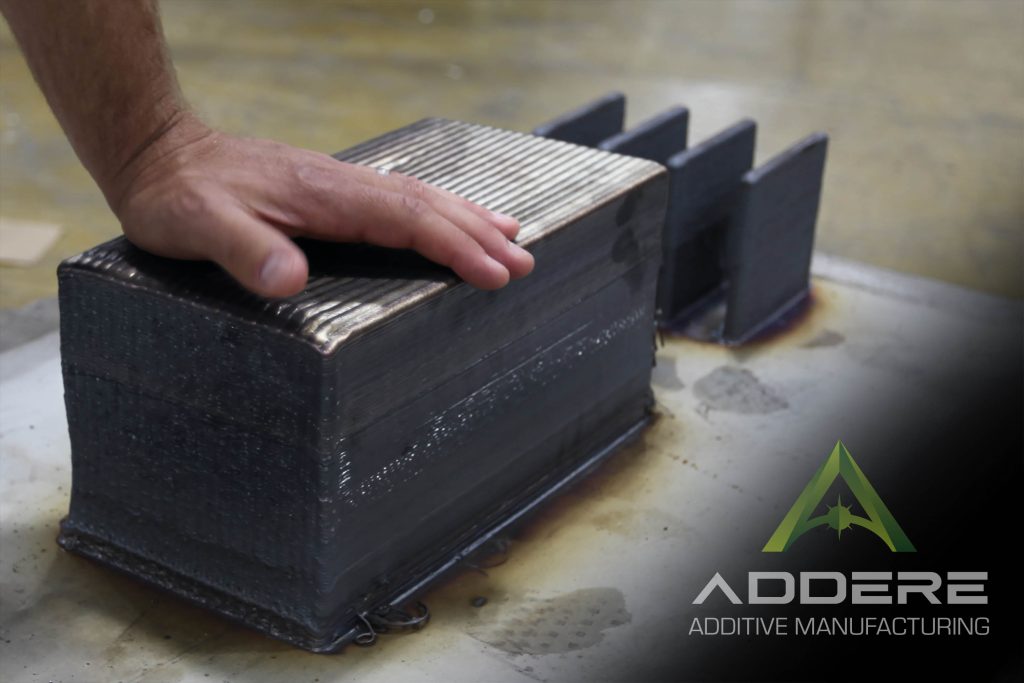 The 3D printing process for each of these blocks took just over six hours. The amount of mass deposited combined with ADDere's proven abilities at very large-scale printing exemplifies the current state of Laser Wire Additive Manufacturing today – more importantly, they show what can now be accomplished with 3D metal printing technology.
"We've already proven we can build things at large scales, these blocks show we can 3D print parts with substantial mass in a relatively competitive timeframe with casting," Says Pete Gratschmayr, VP of Sales & Marketing, "Now real conversations can be had about printing large, high mass components like transmission cases, truck frames and turbine engine mounts without adding 'in the future' to the sentence. We can do it today."
Contact us today to see how we can bring your heavy-duty metal components into the additive world!